Raw For The Day!
As you may know, I'm a huge proponent of eating more raw foods. I'm not a fanatical raw foodist but I do believe (and science continues to show) that eating more fruits and vegetables in their raw state is the foundation of health.
Take for instance a recent study published in the American Journal of Clinical Nutrition which followed 71,000 Swedes, aged 45 to 83, for 13 years.
The results of the study showed that participants who ate at least one serving of fruit daily lived 19 months longer than those who never ate fruit, on average. And those who ate at least three servings of vegetables per day lived 32 months longer than people who reported not eating vegetables.
Not bad, right?
So with that in mind I want to share 3 of my best raw food recipes to help you better your health, boost your energy, and live longer!
Let's consider each of these recipes as a part of a typical day of meals.
Breakfast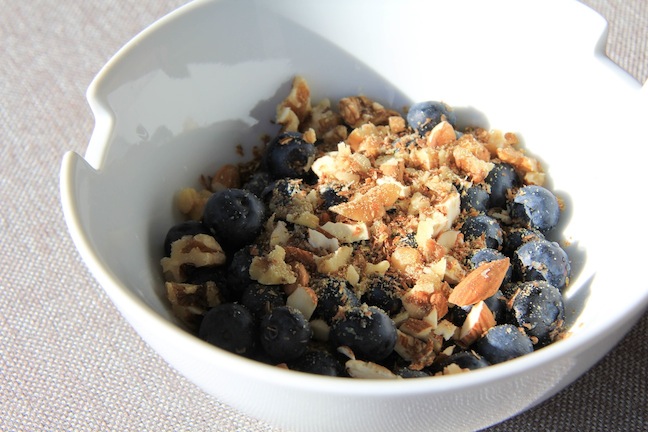 For breakfast, we're going to start with a no-grain (and thus gluten-free) and dairy-free cereal that I call "Blueberry Morning". Considering that there's no gluten, sugar, or dairy involved you can look forward to actually staying awake when you get to school or work instead of falling asleep at your desk or feeling unfocused.
Blueberry Morning
Ingredients:
1 cup fresh blueberries

1 banana, chopped (optional)

2 tbsp chopped almonds, presoaked (or walnuts)

1 tbsp dried shredded coconut (can get this at Trader Joes)

2 tbsp chia seeds (can get this at a great price at www.nuts.com)

1 tbsp ground flaxseed

1 tbsp organic peanut/almond butter (optional)

2 cups of your favourite nut milk (either almond, coconut or even rice -

but NO soy milk

)
To prepare, simply mix all ingredients in a bowl, top with nut milk let sit for about 5 minutes, and enjoy.
Lunch
Next, we come to lunch and there's no better way to rev up your energy and keep going strong than with an amazingly simple to make and mouthwatering smoothie. As you'll see in my 31 Fabulous Blended Drink Recipes (click right here to download a copy) I use all type of ingredents in my shakes and sometimes have them for either breakfast, lunch or even dinner.
"No-Name" Berry Smoothie
Ingredients:
2 cups berries

1 tbsp ground flax seed

1/2 to 3/4 cup almond milk (this depends on how thick you like yours)

1-2 tbsp organic peanut/almond butter

1 tbsp maca powder (available at www.nuts.com - this is great stuff)

little ice to taste

1/4 slice Avacodo
Dinner
By this point in your day you're probably feeling pretty awesome. So let's not ruin it with take-out for dinner. Instead, set aside 10-15 minutes to prepare the following amazing raw food meal – my go-to raw "no fish" sushi.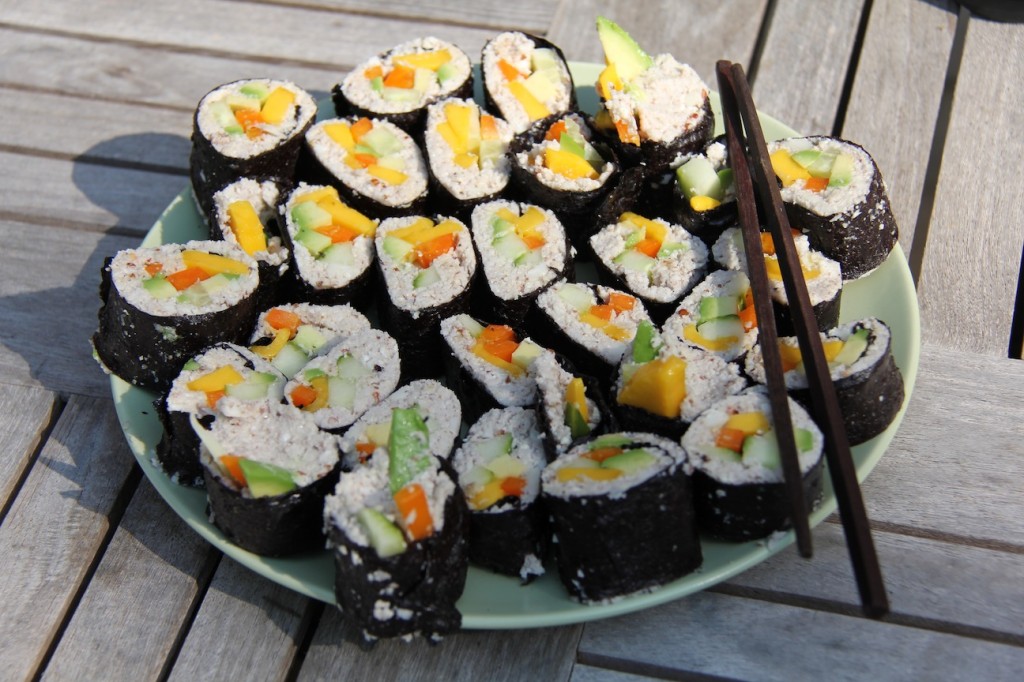 Step 1: Prepare Raw Rice(time = 5 minutes)
For this dish, you'll need to prepare the "no-grain" raw rice which contains the following:
Ingredients:
* 3 cups cauliflower
* 2 handfuls of soaked pecans
* 4 tbsp ground sesame seeds
* 1 tbsp ginger, minced
* Juice of 1⁄2 lemon
* 1 tbsp apple cider vinegar
Throw all ingredients into a food processor and pulse until it resembles rice.
Step 2: Make the Sushi (time = 5 minutes)
Ingredients
2 sheets of Nori

the Raw Rice recipe you just made

1⁄4 cucumber, julienned

2 green onions, julienned

1⁄2 red pepper, julienned

1⁄2 cup pea or alfalfa sprouts
Directions
1. Cover 1⁄4 of the nori sheet with rice and 1⁄4 of the sheet with sprouts.
2. Lay your julienned vegetables over the other 1⁄2 of the rice layer.
3. Tightly roll using your hands, or a sushi mat, and use a bit of water to seal nori in place.
4. Let sit for a few minutes before cutting roll into 6 or 8 pieces. Use tamari sauce (healthier than soy sauce) to dip your sushi.
Voila!
Your day of raw food recipes is now complete.
Total prep time about 25 minutes.
Now, who doesn't have 25 minutes to prepare these amazingly delicious and health-boosting recipes?
Oh yeah…how many servings of fruits and veggies do you think you'd be getting within these 3 meals?
You're looking at a minimum of 10 servings!